Cervical cancer screening
Treatment
Clinical question
GUIDELINE UPDATES - This guideline was last updated 8/15/2018
UPCOMING GUIDELINES - This guideline was updated and comes into practice on 7/1/2022. Download PDF
The decision to treat
Women should understand the indication for treatment. Information regarding the procedure and potential complications should be given and consent obtained.
Most treatments can be completed under local anaesthesia as an outpatient procedure.
Obstetric and neonatal morbidity is associated with some treatment modalities and the aim is to ablate or excise the smallest amount of cervical tissue necessary to achieve clearance of disease.[1][2][3][4][5][6]

Consensus-based recommendation*
REC7.9: Colposcopy prior to treatment
All women should have an adequate† colposcopic assessment prior to treatment.
†adequate: the cervix is clearly seen (IFCPC 2011 terminology)
Consensus-based recommendation*
REC7.10: Histopathological confirmation prior to treatment
Treatment should be reserved for women with histologically confirmed HSIL (CIN2/3) or AIS, except for women requiring diagnostic excisional biopsy.
Consensus-based recommendation*
REC7.11: Biopsy prior to ablative treatment
Women should have a cervical biopsy prior to any ablative treatment.
Consensus-based recommendation
REC7.12: Pathology review of discordant test results
For women who have had a colposcopy with significant discordance between the histopathology and the referral cytology, both specimens should be reviewed by a pathologist from at least one of the reporting laboratories who should then convey the results of the review to the colposcopist in order to inform the management plan.
Practice point
REC7.13: Tertiary referral may be necessary
In some clinical situations, the woman should be referred to a more experienced colposcopist, a gynaecological oncologist, tertiary colposcopy clinic or gynaecological cancer centre:
adenocarcinoma in situ
abnormalities in pregnancy
immune-deficient women
women with multifocal lower genital tract disease.
Multidisciplinary/concordance consultation and meetings
In tertiary centres, a regular 'concordance' or multi-disciplinary team (MDT) meeting may be convened to review the pathology results and discuss the management of cases.[7]
Practice point
REC7.14: Second opinion
When there is any concern about diagnosis or patient management, a second opinion should be sought and documented.
Practice point
REC7.15: The role of multidisciplinary team review
It is not always practical for a colposcopist to access a multidisciplinary team review which is usually conducted in a tertiary referral centre. However, a multidisciplinary team review is particularly helpful when:

dealing with complex cases where there is discordance between histopathology and referral cytology (e.g. LBC prediction of HSIL, with negative or LSIL histology).

implementation of treatment is not urgent and therefore it is possible to take the required time to review the findings and optimise the management plan.
Training
All therapeutic colposcopists should have undergone approved, recognised and supervised training and have demonstrated competence in the therapy/therapies that they use.
Modalities of treatment
Practice point
REC7.16: Colposcopy at time of treatment
All treatments should be performed under colposcopic vision, with the exception of cold-knife cone biopsy.
Treatment is achieved by ablation of the abnormal tissue or the complete excision of the atypical TZ. The modalities currently used in Australia are:
ablation – tissue destroyed by an energy source
excision – tissue excised by surgery using a scalpel or energy source

cold-knife (scalpel) cone biopsy
electrosurgery

large loop diathermy; loop electrosurgical excision procedure (LEEP) or large loop excision of the TZ (LLETZ)
fixed profile rotating excision (Fisher cone or Utah type)
fine needle/wire; straight wire excision of the TZ (SWETZ) or needle excision of the TZ (NETZ)

CO2 laser cone.
Cryotherapy and thermal coagulation are not currently used in Australia (see Supplement. Colposcopy technologies and documentation).
The amount of cervical tissue to be ablated or excised should be determined by:[8][9]
the Type of TZ
the size and extent of the lesion
the known or suspected final histology.
Note: ideally, the planned depth of ablation/excision should be recorded and where possible, the extent of the ablation/excision should be measured.
Ablation
Consensus-based recommendation*
REC7.17: Criteria for ablative treatment
Ablative therapy should be reserved for women intending to have children, and when the following conditions have all been met:
TZ is completely visible (Type 1 or Type 2).
There is no evidence of invasive or glandular disease.
A biopsy has been performed prior to treatment.
HSIL (CIN2/3) has been histologically confirmed.
There is no significant discordance between the histopathology and referral cytology results.
Practice point
REC7.18: Depth of ablation
A Type 1 TZ with a HSIL (CIN2/3) lesion requires 6–8 mm (and not more than 10 mm) of cervical ablation to be adequately treated.
Carbon dioxide (CO2) laser ablation
CO2 laser ablation is usually practised in tertiary centres where a clinical CO2 laser is available. Laser ablation is usually performed as an outpatient procedure under local anaesthesia.[10]

Excision
Excisions are stratified as Types 1, 2 or 3, according to the length of cervical tissue excised. It is important to establish the stratification of the excision type and, as Australian pathologists do not routinely use the measurements specified by the IFCPC, a modification of the IFCPC definition has been suggested.
Treatment types are defined below (modified from the IFCPC):[11]
Type I excision (for Type 1 TZ): usually to 8 mm and not more than 10 mm length of cervical tissue excised
Type 2 excision (for Type 2 TZ): not more than 15 mm length of tissue excised
Type 3 excisions (for Type 3 TZ): equivalent to 'cone biopsy' and > 15 mm length. Should be used for women with:

suspected invasive disease
proven or suspected glandular disease
Type 3 TZ with proven or suspected high-grade disease.
The specimen should be removed in one piece. Specimens in two or more pieces may create difficulties in histological assessment, particularly in the interpretation of margins, completeness of excision and the evaluation of invasive disease. This is very important if AIS is predicted or histologically confirmed.
However, in women who have a very large ectocervical TZ, it may be necessary to remove the TZ in two pieces. This should rarely be required and is an unusual situation. It is important that the endocervical and stromal margins are suitable for pathological interpretation, that the specimens are accurately orientated and labelled and that the whole lesion is removed.
Consensus-based recommendation*
REC7.19: Excision specimen quality and pathology
Excisional therapy should aim to remove the entire TZ with a pre-determined length of cervical tissue, ideally in one piece, with minimal distortion or artefact to the final histological specimen.†

†This is critical for management of suspected or histologically confirmed AIS.
Practice point
REC7.20: Excision specimen quality, pathology and very large ectocervical lesion
A very large ectocervical lesion may require removal in two pieces in order to remove the entire lesion. It is still important that the endocervical and stromal margins are suitable for pathological interpretation and that the specimens are accurately oriented and labelled.
Practice point
REC7.21: Excisional techniques and surgical competency
Therapeutic colposcopists should use the excisional techniques with which they are comfortable and competent and that produce the best histological specimen.
Cold-knife cone biopsy
Historically, cold-knife cone biopsy has been the recommended procedure in suspected cases of glandular disease and invasion. Current evidence indicates that it carries the best rates of single specimens and achieved length > 15 mm (Type 3 excision), but it has higher reported rates of short-term and long-term complications including primary haemorrhage and subsequent pre-term labour, when compared with other excisional modalities.[3][4][5][6][12][13] However, a meta-analysis reported that all excisional procedures used to treat cervical intraepithelial neoplasia seem to be associated with adverse obstetric morbidity.[6] Loop diathermy excisions (LLETZ/LEEP) that remove large amounts of cervical tissue probably have the same effect as cold-knife cone biopsies. Given the design of published observational studies, observed differences in perinatal mortality and severe premature delivery, in treated versus non-treated women, cannot be ascribed solely to treatment.[6]
Practice point
REC7.22: Cold-knife cone biopsy: setting
Cold-knife cone biopsy should be performed in an operating theatre, under general anaesthesia, by a gynaecological oncologist or gynaecologist competent in the technique.
Loop diathermy (LEEP or LLETZ)
Loop diathermy (LEEP or LLETZ) is the most commonly used therapy for CIN in resource-rich countries. Disposable loops are available in a wide variety of profiles and sizes (Figure 7.2). The loop should be chosen after colposcopy preceding therapy to meet the width of the TZ and the planned type (length) of excision.
In Australia it has been reported that this technique frequently results in fragmented specimens with excessive thermal artefact.[14] Published studies from other countries do not report the same rates of problems with loop diathermy, suggesting that this is a local training and performance issue.
Diathermy settings should be significantly higher than used in most open or laparoscopic surgeries to reduce thermal artefact (this should be minimised to 0.2 mm). It is imperative that the clinician obtain the recommended power settings from the electrosurgical system manufacturer. It should be noted that each clinician will have a personal preference (to suit their surgical technique, loop size, speed of excision and other factors) that determine their personal 'best settings' for electrosurgical procedures. Extensive application of coagulation current should be avoided, especially at the endocervical margin, which rarely bleeds.
Figure 7.2. Examples of loops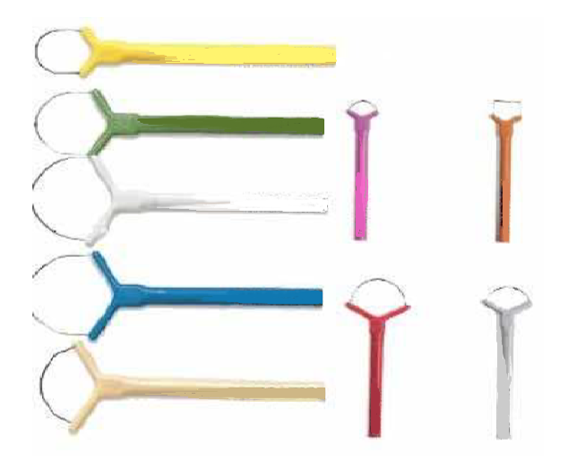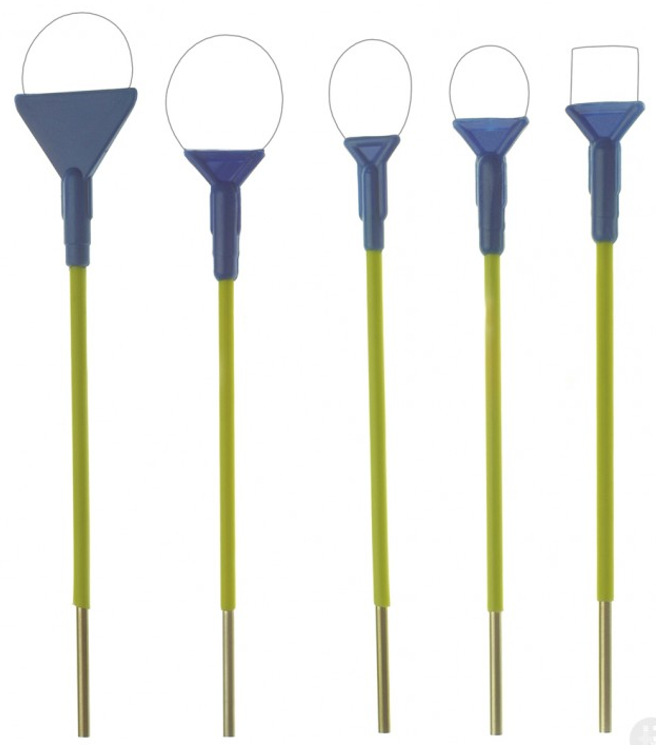 Practice point
REC7.23: Loop excisional biopsy technique (LEEP/LLETZ)
A single pass of the loop (side to side or posterior to anterior) to produce a specimen in one piece is optimal.
Practice point
REC7.24: Loop 'top-hat' excisions should be avoided (LEEP/LLETZ)
The 'top-hat' excision techniques using a wire loop, in which a second piece of endocervical tissue is removed after the first excision, is not an alternative to a properly performed single-piece Type 3 excision, and should be avoided.
Profiled electrosurgical excision
There are several patented profiled devices for a rotational excision (Fisher, Utah, etc) that come in different sizes/lengths (Figure 7.3).[15] These are inserted into the cervix under power, usually anteriorly (12 o'clock) and rotated through 360 degrees. They have the advantage of being easy to use, but have the thermal artefact disadvantage of diathermy-based techniques.[14] These devices usually provide a one-piece specimen, but the initial entry incision renders an opened cone that may distort during fixation and require a different pathological management to single-piece closed loop and knife cones.
Figure 7.3. Examples of profiled loops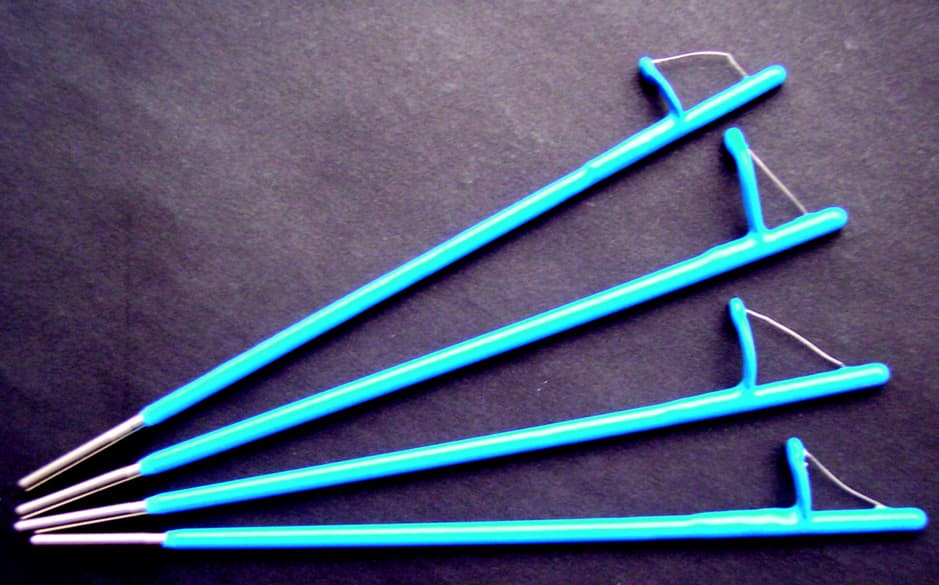 Diathermy point/needle excision: straight wire excision of the TZ (SWETZ) and needle excision of the TZ (NETZ)
Type 3 excisions can be achieved using cutting diathermy with a straight or angled needle (NETZ)[16] or straight wire (SWETZ)[17] in the same fashion as using a scalpel. Bleeding is less than with cold-knife cone biopsy but thermal artefact can be greater than with loop or profiled excisions. Scarring and the risk of stenosis are greater than with loop diathermy or cold-knife excisions.
Laser cone biopsy
Laser Cone Biopsy was introduced in the 1980's after it was realised that widespread use of laser ablation might be resulting in the under diagnosis of micro-invasive disease. It can be practised under local anaesthesia in adequately equipped rooms or outpatients as well as in operating theatres, but requires considerable skill in balancing the laser's ability to cut and coagulate.[18] [12] It can produce more thermal artefact than correctly set diathermy techniques and takes significantly longer to perform than LEEP/LLETZ. It is rarely performed now.
Special treatment considerations
Treatment of endocervical adenocarcinoma in situ (AIS)
Women with a proven glandular abnormality who wish to retain their fertility should be treated with local excision and some colposcopists will also perform a post-excision endocervical curettage at the time of the excision.[19] A woman presenting with a definite high-grade glandular abnormality on cytology has a 24% or greater chance of having invasive adenocarcinoma in the excision specimen.
A Type 3 excision is usually performed, most commonly by cold-knife cone biopsy in Australia.[20][21][22] There are recent retrospective reports, including one from Western Australia, showing satisfactory management with large loop diathermy, which is also widely practised overseas.[23][24] However the authors concluded that further prospective studies were needed to confirm their findings.[24] The shape of the excision is not usually described as a true cone but a cone on top of a cylinder. The initial incision is perpendicular to the external cervical surface to ensure the excision of glands originally exposed in the post-menarche TZ now overlain by mature squamous metaplasia.
There is evidence that in women under 35 years of age a more conservative Type 2 excision can be offered initially, as long as the woman is counselled about the possibility of repeat therapy. Any incomplete margin will require a repeat excision.[25][26][27] Because of the acceptance of the concept of 'skip' lesions it has been practice to try to achieve an endocervical clearance of a minimum of 5 mm.
Practice point
REC7.25: Cold-knife cone biopsy and AIS
Predicted or histologically confirmed AIS should be treated by a Type 3 excision (usually a cold-knife cone biopsy) performed in an operating theatre, under general anaesthesia, by a gynaecological oncologist or gynaecologist competent in the technique.
Superficially invasive squamous cell cancer (SISCCA)
Women diagnosed as FIGO Stage IA1[28] squamous carcinoma after local excision do not require further excision if the following criteria are satisfied:[29][30]
The margins are clear of CIN and invasive disease.
There is no evidence of lymphovasular space invasion.
The case has been reviewed by a gynaecological pathologist and discussed at a gynaecological oncology multidisciplinary meeting.
†Previously called 'micro-invasive'.
Practice point
REC7.26: Role of repeat excision in management of SISCCA
In the presence of a superficially invasive squamous carcinoma, if HSIL (CIN2/3) extends to any excision margin, a repeat excision (usually by cold-knife cone biopsy) is recommended.
Treatment at first visit
There is evidence that treatment at the first visit can reduce overall levels of anxiety in women with cervical abnormalities,[31] but anxiety may be increased if they are not adequately informed of the potential for treatment at their first visit.
Most women do not need to consider this option. It is recommended that women should have an adequate colposcopic assessment and a colposcopically directed biopsy at the first visit. This will provide histological confirmation of the colposcopic impression and inform the need for definitive treatment that is usually performed at a later date.
The indiscriminate practice of treatment at first visit ('see and treat') has in the past led to an excessive number of unnecessary treatments, especially when the referral cytology is pLSIL/LSIL and the diagnostic colposcopist thought there was a higher grade lesion but this was not confirmed on final histopathology.[32] This approach should be avoided in light of increased awareness of the potential complications of treatment.[5][6]
A recent systematic review and meta-analysis included 13 studies that considered the rate of 'over-treatment' for women with various referral cytology results. Overall rates of over-treatment were 11.6% in women with high-grade cervical cytology and high-grade colposcopic impression, 29.3% in women with high-grade cervical cytology and low-grade colposcopic impression, 46.4% in women with low-grade cytology and high-grade colposcopic impression, and 72.9% for women with low-grade cytology and low-grade colposcopic impression. The authors recommend that 'see and treat' is reasonable only if the referral cytology and the colposcopic impression are both high grade.[33]
In the Australian context it may be appropriate to consider treatment, which is almost always excisional, at the first visit.[34][35] [36] Women may face logistical problems attending for appointments, especially if they live a considerable distance from the colposcopy clinic or private rooms. Some anxious women request that treatment is performed at the first visit so that the diagnostic and treatment process is not prolonged.

Women for whom treatment at the first visit is being considered should satisfy the following criteria:
Referral cytology predicts HSIL.
Colposcopic impression is high-grade disease.
TZ is completely visible (Type 1 or 2).
Invasive cancer has been excluded.
The lesion is suitable for treatment under local anaesthetic.

Practice point
REC7.27: Do not treat at first visit with a LBC report of a low-grade lesion
Women who have a LBC prediction of pLSIL/LSIL should not be treated at the first visit.
Repeat treatment
Recurrence may occur after an ablative or excisional procedure. If, after an excisional procedure, the HSIL (CIN2/3) extends to the endocervical (deep) or stromal (lateral) margins of the specimen, there will be a higher incidence of recurrence, but not high enough to justify routine repeat excision, in the absence of glandular or invasive disease.[37][38]
However, women aged 50 years and over with involved margins or women in whom adequate subsequent colposcopic examination and follow up cytology cannot be guaranteed, should be offered repeat excision and, in some cases, hysterectomy.[39]
Practice point
REC7.28: Excision required for recurrent disease after ablation
If there is recurrence of high-grade disease after previous ablation, treatment should be by excision.
Practice point
REC7.29: Repeat excision not necessarily required for incomplete excision of high-grade lesions
Women who have incomplete excision of HSIL (CIN2/3) with positive endocervical or stromal margins do not necessarily require immediate repeat excision and could be offered test of cure (HPV and LBC) surveillance, with the exception of:
women aged 50 years or over
women who may not be compliant with recommended follow-up
women in whom subsequent adequate colposcopy and follow-up cytology cannot be guaranteed.
Author(s):
References
WEBSITE UPDATES - This website was last updated 5/18/2022
Cancer Council would like to acknowledge the traditional custodians of the land on which we live and work. We would also like to pay respect to the elders past and present and extend that respect to all other Aboriginal people.