I thought I was immune to skin cancer...
By Rob Paxevanos. Host Fishing Australia TV program.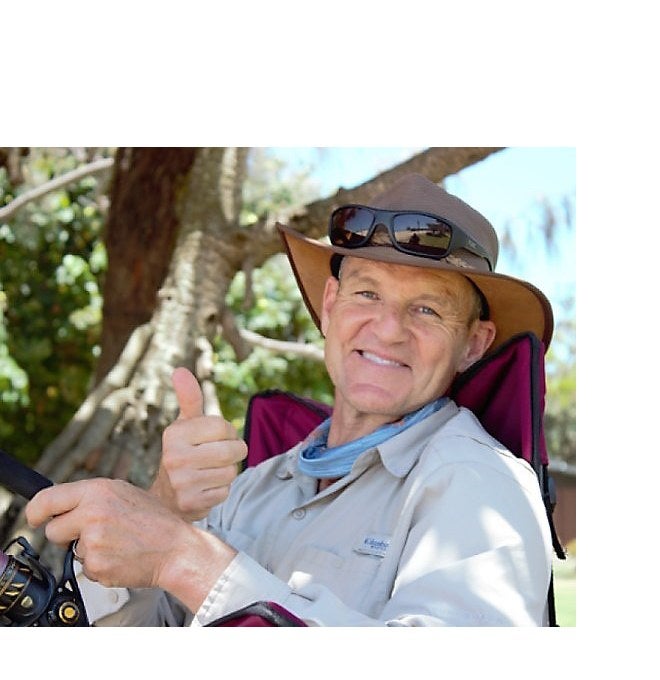 Ahh those sunny, summer days in Victoria as a kid, splashing around in the shallows at the beach, pool or river.
Long, lazy days under the sun 
I can just feel it now as I close my eyes – the family laughter, water splashing and the peace and echos of bubbles when you put your head under and the whole world becomes weightless and even more enjoyable.  
No one wanted to go home, especially the kids because I think deep down, we knew life just doesn't get much better. At the time, we weren't thinking about being out in the sun all day. But our parents were saving our skin and making sure we didn't get sunburnt.
I really thought I was immune to skin cancer, that I didn't need to protect my skin, and thought this for over 40 years!"
But as it turns out it probably wasn't the beach that caused skin cancer on my cheek – it was more likely fishing or other outdoor activities and working outdoors.  Back in those days we were sun smart on the beach but didn't consider skin cancer prevention in other environments.
Know the UV 
We now know that UV levels of 3 or above require protection for your skin.  Heck just three! That level is topped most of the day almost anywhere in Australia in summer, let alone on the water where there's glare! Head halfway up the coast to Brisbane and the sun's UV is above 3 almost all year round. In fact it's very often much higher now that I make a habit of watching it!  This makes it easy to see why Australia has the highest rate of skin cancer in the world!
I have never been one to go and lay in the sun – my brother Mark and a few friends were… So I took precautions to protect my skin… but not enough.
Rob's experience with skin cancer 
Luckily, I started getting an annual skin check-up a few years before I moved to Queensland.  I was doing fine until a part of my cheek got an itch that didn't go away, so I went in for an extra test. It proved it to be skin cancer – one that if not removed would get serious. 
Lost a day or two of my life getting the very minor operation to remove the skin cancer and it cost a little – a very small price to pay to be here now! I am so grateful we have these skin cancer services and doctors in Australia – bloody gems! 
I really think that it was the glare off the water beating on my face that caused the skin cancer – I'd wear shirts and hats or stay in the shade of the boat or trees but so many times I'd get tanned on the face, despite my attempts to being sun smart. Even more so that on my hands and the tops of my feet.   I put sunscreen on my face at the start of the day – but it's easy to forget to reapply once you start chasing fish and get distracted.  
So I covered up the second half of my life (I'm 53) with a long sleeve shirt and hat, but was not so vigilant on my face and I am always wiping sweat off my cheeks so that didn't help.
Rob's SunSmart habits 
These days it's a different story – I know that I will be fine if I cover up. I don't worry about it, I just do it.   
It's pretty straightforward to protect your whole body. I check the UV ratings and when it's above 3 do the 5 S's – slip on a long sleeve shirt and pants, slop on broad-spectrum, water-resistant SPF30 or higher sunscreen, slap on a broad brim hat and slip-on sunnies with Australian standard UV protection and seek shade.   
Reapplying sunscreen every 2 hours and wearing a buff on my face is also part of my routine, especially when on the water. 
I use a dry-touch sunscreen or non-perfumed sunscreen so it won't contaminate my fishing tackle or bait/lures.  
The really big thing to understand is that you can't feel UV, so when there's a cool southerly, cloud cover or you've been for a swim – you feel cool – you don't think to be sun smart and consider skin cancer prevention.  
Even in the late arvo when it's cooled off, but the glare of the water is shining up under your hat or the shade from a tree –you can be exposed to harmful UV without even knowing. 
The good news is it's never too late to start being sun smart and protect your skin from cancer.   
If you regularly work or spend long periods outdoors protection is recommended all year round, regardless of UV level - even on cool and overcast days. 
I can only hope my story helps fellow anglers play it sun safe – I'd like to think we all have a lot more fun on the water left to go. We just have to outsmart that tricky UV, like we like to outsmart fish. 
See you on the water … in your SunSmart kit. 
Rob Paxevanos  
Host, Fishing Australia Television Series.    
Find out how to build your own easy SunSmart habits or do the SunSmart quiz.