E-cigarettes
What are they and are they harmful?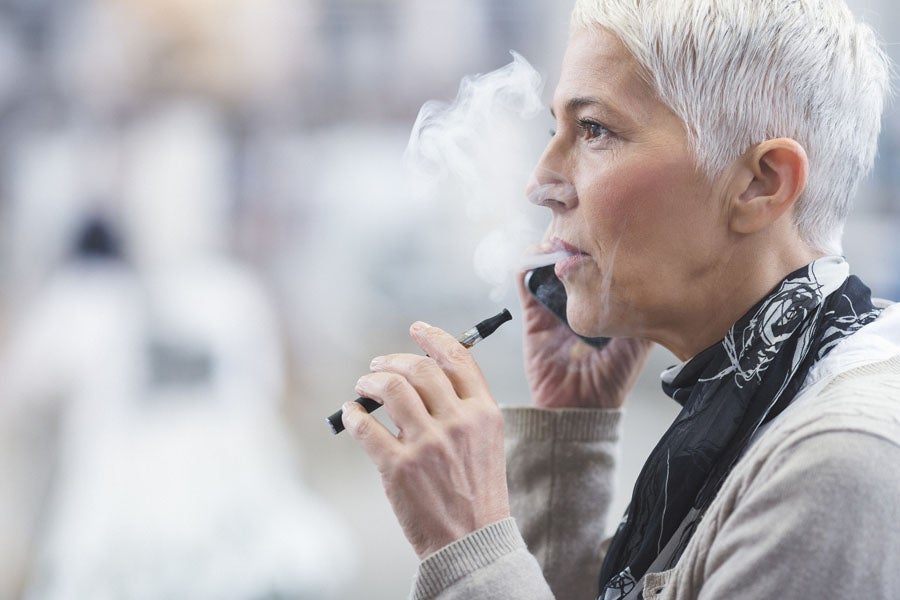 What are e-cigarettes?
Electronic cigarettes, or e-cigarettes, are battery operated devices that heat a liquid (called "e-liquid") to produce a vapour that users inhale.  They are designed to deliver nicotine and/or other chemicals via an aerosol vapour directly to your lungs (also referred to as vape or e-liquid nicotine). E-cigarettes do not generally contain tobacco and products vary in terms of ingredients and designs.
All e-cigarettes have three basic components: a battery, an atomiser and a fluid cartridge. The fluid used in e-cigarettes usually contains propylene glycol, glycerol, nicotine and added flavourings.
The use of e-cigarettes is growing in many countries including Australia. The majority of users are current smokers. The Australian National Drug Strategy Household Survey reported that current e-cigarette use was most common among smokers aged 18-24 at 6.8%.
---
Are e-cigarettes safe?
The short and long-term health effects of e-cigarettes are currently being researched. As e-cigarettes are relatively new it means that there is not enough data available to determine the long-term health effects. Products delivering chemicals directly to the lung are only approved after extensive evaluation on safety and efficacy. E-cigarettes currently on the market in Australia have not passed through this process and have not been proven safe to use. 
---
Do e-cigarettes produce harmful chemicals?
Studies increasingly show that e-cigarettes emit harmful substances. The National Health and Medical Research Council advises that e-cigarettes may expose users to chemicals and toxins such as formaldehyde, heavy metals, particulate matter and flavouring chemicals, at levels that have the potential to cause adverse health effects. For example, propylene glycol and glycerine found in e-cigarettes when overheated can produce dangerous levels of the carcinogens formaldehyde and acetaldehyde.
---
Do e-cigarettes help you quit smoking?
The evidence for e-cigarettes as cessation aids to help you quit smoking is inconclusive. The Therapeutic Goods Administration has not approved any e-cigarette product as a cessation aid to help with quitting smoking. The Therapeutic Goods Administration has approved many other products such as patches, gum, lozenges, mouth spray and inhalators as quitting aids that are safe to use and are shown to increase chances of quitting smoking.
There are concerns e- cigarettes may lead to the use of tobacco cigarettes among adolescents. Studies have shown that e-cigarette users were more than three times more likely than non-e-cigarette users to subsequently become tobacco smokers.
There is growing evidence that using e-cigarettes leads to smoking tobacco cigarettes in young people. Given the potential risks, Cancer Council and the National Heart Foundation advise extreme caution on the use of e-cigarettes and make the following recommendations to:
ban the retail sale of non-nicotine electronic cigarettes
ensure smoke-free laws in each state and territory cover electronic cigarette use
prohibit advertising and promotion of electronic cigarettes.
Sources
Australian Institute of Health and Welfare 2017. National Drug Strategy Household Survey 2016: detailed findings. Drug Statistics series no. 31. Cat. no. PHE 214. Canberra: AIHW.
Grana R, Benowitz N, Glantz SA. E-cigarettes: a scientific review. Circulation. 2014;129(19):1972-86.
NHMRC CEO Statement: Electronic Cigarettes (e-cigarettes). Australian Government National Health and Medical Research Council; 2017 [Accessed 29 June 2017] .
Malas M, van der Tempel J, Schwartz R, Minichiello A, Lightfoot C, Noormohamed A, et al. Electronic cigarettes for smoking cessation: a systematic review. Nicotine & Tobacco Research. 2016;18(10):1926-36.
Soneji S, Barrington-Trimis JL, Wills TA, Leventhal AM, Unger JB, Gibson LA, et al. Association Between Initial Use of e-Cigarettes and Subsequent Cigarette Smoking Among Adolescents and Young Adults, A Systematic Review and Meta-analysis. JAMA Pediatrics. Published online June 26, 2017.