Telehealth for cancer patients and carers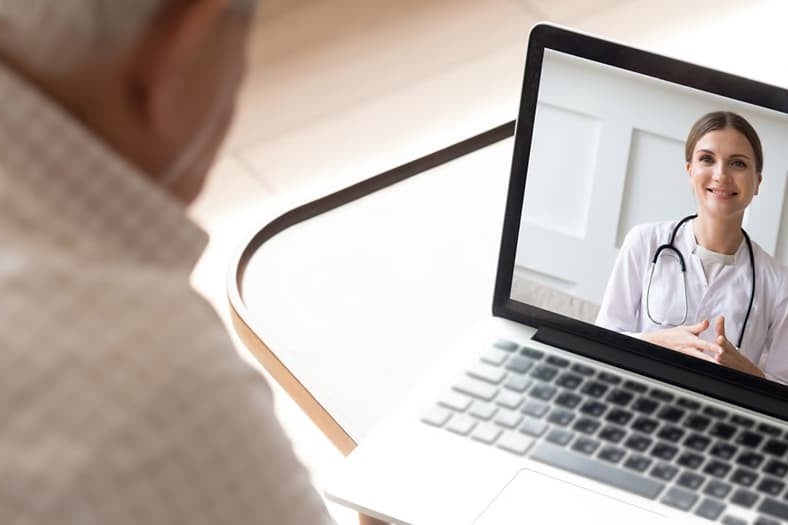 As our healthcare system adapts to COVID-19, you may be offered an appointment via telehealth. There are two main ways a telehealth appointment can work. This is by phone or video. These appointments will be offered when it isn't necessary to see your healthcare team in-person.   
---
What are the benefits of telehealth? 
Telehealth provides an alternative way to meet during COVID-19 and enable you to continue your vital health care. As services begin to return to normal, telehealth may continue to be part of your health care. Telehealth also means you reduce your risk of getting other illnesses such as colds and flu and even Coronavirus. You may also save money on transport and accommodation costs you may have incurred with face-to-face appointments.  
---
What appointments are best for telehealth?  
You will need to see a range of health professionals during your cancer treatment. Telehealth will be best for appointments such as consultations, follow-up care, scan and test results and advice on symptoms and care. Talk to your health professionals, including social workers, psychologists and physiotherapists, about when telehealth is right for you.  
It is understandable that the transition to telehealth may seem strange in the beginning, but there are some simple steps you can take to make sure your appointment runs smoothly.  
For a phone call you can use a mobile phone or your landline. For video calls you can use a smartphone, iPad or a laptop or computer that has a camera. Your health professional can then email or text you with instructions.  
Ahead of your appointment, take some time to have a look at the appointment information provided. Contact the health professional's practice or administrative team if anything is unclear.  
Some things you can do to prepare include: 
check whether video conferencing is possible if this is more comfortable for you 
find out who is calling – do I call the doctor or does the doctor call me? 
don't have your phone on silent 
turn your microphone on and your camera on if you're using a laptop or iPad 
think of any questions you would like to ask and write them down 
rest your screen on something so you don't have to hold it 
connect a few minutes early so you can check that everything is working properly 
organise for a support person to join you during the appointment if possible. If they need to connect into the appointment separately, ensure there are instructions available to them. 
---
Can I ask for a face-to-face appointment?  
Yes, you can still ask for a face-to-face appointment.  
You should have a face-to-face meeting if it is the first time seeing the doctor. Your health professional may ask to see you in person particularly if you need a physical examination, test, treatment or scan.  
If you don't feel comfortable using telehealth, ask your health professional for a face-to-face appointment. They will be able to tell you how to stay safe when visiting. 
---
Where can I get more information?  
For more information and support you can contact Cancer Council 13 11 20.  
Cancer Council Victoria has produced a number of bilingual resources. These were developed with a grant from Dry July. They are reproduced here with permission.  
We're here to support all Australians affected by cancer
Explore our support and services