Culture and workplace
Cancer Council Australia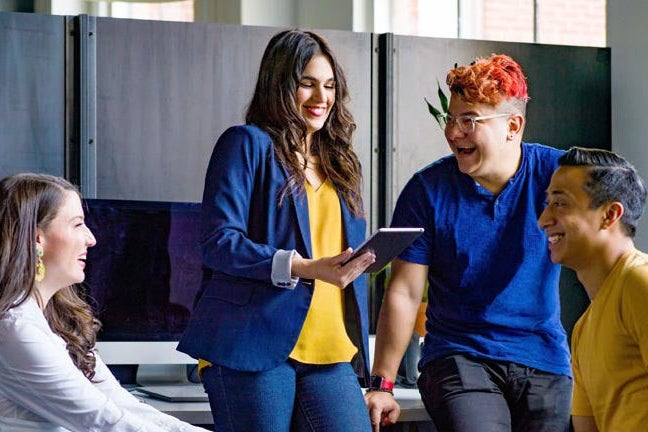 Corporate culture
We promote a positive work environment by:
valuing and respecting our staff
encouraging collaboration and open communication
prioritising onboarding and training
offering salary packages benchmarked against the external market
offering attractive salary sacrifice arrangements and a flexible workplace
setting a clear direction and connecting staff with our vision, mission and strategy
managing a clear goal-setting, performance and feedback environment
creating a comfortable work and social environment
supporting opportunities for learning, including internal and external training
providing appropriate levels of equipment and resources for the job
ensuring we offer a safe and healthy working environment
fostering a culture of diversity and inclusiveness free from harassment and discrimination
---
Staff giving back to the community
As a community-minded organisation, Cancer Council Australia actively encourages our staff to be involved in the local community.
All employees are encouraged to volunteer at our fundraising events. Many staff participate in Daffodil Day, selling merchandise at locations throughout Sydney to raise funds for cancer. This provides employees with an opportunity to get involved in community fundraising first hand and engage with volunteers and members of the public.
We also host our own Australia's Biggest Morning Tea and promote our own Workplace Giving Program, allowing staff to contribute to other causes.
---
Improving our environmental performance
Cancer Council Australia is located in a modern office building that features:
3.5 star NABERS rating for water use
5.5 star NABERS rating for energy use
5.0 star NABERS rating for indoor environment quality
recycling rate of 70%
quarterly e-waste collection
highly efficient T5 troffer office space lighting
motion activated low watt LED lighting in foyers and car park and fire stairs.
In addition, Cancer Council takes the following steps to reduce the environmental impact of our workplace and staff by:
recycling toner cartridges paper and plastics in the office
providing mobile phone and used battery collection
using recycled or green products where possible
defaulting office machines to print double-sided
ensuring printers loaded with recycled paper are available
encouraging staff to take public transport to and from work by being located near good transport hubs
enabling staff to cycle to work by providing safe bike storage and shower/change facilities
automated controls to turn off all lights at the end of each working day.
---
Ensuring ethical behaviour
Cancer Council has code of conduct policies that prescribe the expected ethical behaviour of our employees, and Board and committee members, including:
acting honestly, with fairness and equity, within best practice policies and within the law
exercising competence, being accountable and taking responsibility
disclosing conflicts or potential conflicts
avoiding participation during or after employment in any activity that might be harmful to the operation, health or reputation of the organisation
treating personal, commercial and sensitive information with confidentiality, integrity and security
avoiding any behaviour that could be regarded as bullying, harassing or discriminating
not receiving or soliciting gifts that compromise, or may be seen to compromise, any official capacity.
Find out more about working with Cancer Council