Blog
This is the best way to find breast cancer early
March 22, 2021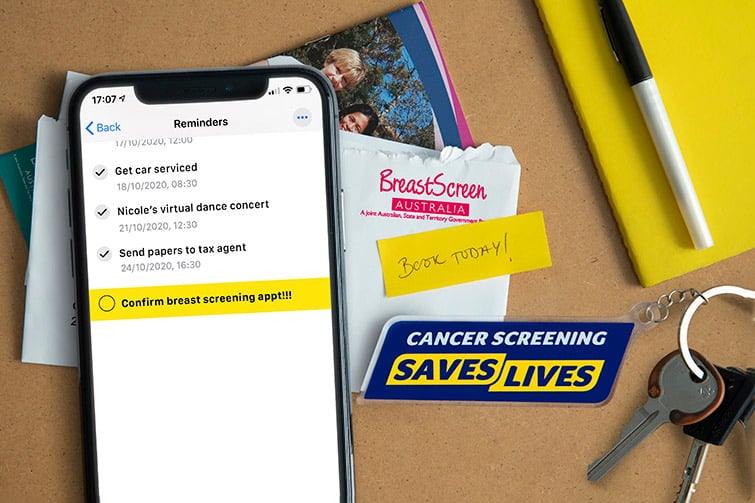 COVID-19 has impacted our lives in many ways - people have been following the health advice to stay at home, but as a result have missed out on important health checks. Sadly, this means that many cancers will have been undiagnosed over the past year.
When it comes to breast cancer, early detection is key to successful treatment and survival. If you've been putting off your BreastScreen appointment because of COVID-19, we're encouraging you to prioritise your health and tick breast screening off your to-do list.
It is safe to attend breast screening
All BreastScreen clinics are undertaking extra precautions to protect people from the risks of COVID-19.
For the health and safety of clients and staff, they will be spacing out appointments to create social distancing and reduce the number of people in waiting areas. It will also provide more time for BreastScreen staff to clean in-between appointments.
Don't put it off because of COVID-19
Breast cancer is the most common cancer found in Australian women, in fact, one in seven women will get breast cancer at some point in their lives. As with other cancer types, finding breast cancer early offers the best chance of successful treatment.
We are lucky to live in a country that provides free breast screening for people aged 50-74 every two years through BreastScreen Australia. Mammographic screening is the best method for detecting breast cancer early, before it can be felt or noticed.
Tick breast screening off your to-do list
If you have received an invitation from BreastScreen for your screening mammogram, you should make an appointment as soon as possible. The appointment is free, only takes ten minutes and it could save your life.
Don't delay because of COVID-19 – now more than ever is the time to prioritise your health and tick it off your to-do list. Call 13 20 50 to book your appointment.
---
Leah's story
There's nothing more important than regular cancer screenings"
Leah was diagnosed with Stage 1 breast cancer at the age of 54 in 2016, after finding a small lump in her breast.
"I underwent a right-side mastectomy followed by six months of chemotherapy and five weeks of daily radium treatment".
In January 2019, a persistent dry cough led Leah back to her GP, and further tests revealed Stage 4 breast cancer.
"The diagnosis was a huge shock, and I am still undergoing treatment, which has been challenging, especially during the current pandemic, but my husband, sons and pooches have been an incredible support".
 "I lost my Mother to breast cancer this year, and to now be going through cancer myself, it's hard".
If I could tell women one thing, it would be to get their screenings, and to be consistent with regular screenings - there is nothing more important."
---
Tags