Primary school and early childhood resources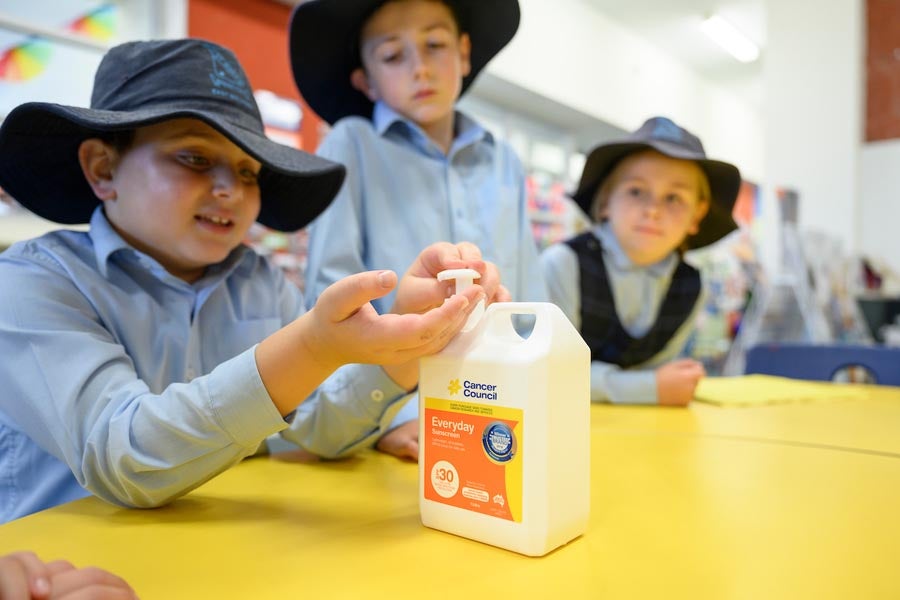 Twinkl - sun safety curriculum resources
Cancer Councils National SunSmart Program is dedicated to reducing skin cancer incidence, mortality and morbidity across Australia. Becoming a SunSmart member means the school is well supported with resources and information to ensure teachers and students receive appropriate sun safety education to be used in the classroom and across the school. 
The link below provides a great selection of sun safety teaching resources, classroom activities and display materials that easily accessible for teachers. To gain access to these resources is easy! Simply create a FREE Twinkl Account and there will a variety of downloadable sun safety resources at your fingertips. 
---
You gotta be SunSmart
The classic 'Slip Slop Slap' message has been given a fresh update by actor, entertainer and Playschool favourite Jay Laga'aia
---
Sun and UV at school
Cancer Institute NSW's new Sun and UV at school evidence-based curriculum resources for P–10 are linked to the Australian Curriculum and can be used by teachers in all states and territories. They have been strategically developed by CINSW in consultation with education and health sector representatives including SunSmart.
---
seeUV
If you could see UV what might it look like? If you don't use sun protection, what might you look like in the future?
SeeUV app
Download the augmented reality app to show you what your skin could look like if you don't protect it in the sun
---
Generation SunSmart
Online sun protection learning modules, developed by Cancer Council WA, for educators and school nurses. Suitable for year five and upwards. 
Generation SunSmart
https://www.generationsunsmart.com.au/
---
Skin (song by Allan Caswell)
Written by Allan Caswell (who has kindly allowed Cancer Council to share with schools and services), this upbeat song 'Skin' has a focus on tolerance (and sun protection!).
SunSmart songs
Download audio and lyrics from the SunSmart site
---
Sid the Seagull sings Slip, Slop, Slap, Seek, Slide
The new look Sid the Seagull sings about five sun protection steps to help keep your skin healthy.
---
Sun protection times
Even when it's cool or overcast, the sun's UV can still be damaging. The free SunSmart app and widget indicates daily local sun protection times, weather and temperature. The sun protection times are a forecast from the Bureau of Meteorology for the time of day UV levels are forecast to reach 3 or higher. At these levels, sun protection is recommended for all skin types. The app also features a sun protection reminder and sunscreen calculator.
---
Kidskin School Sun Safety Resources
Kidskin resources offer primary school teachers prepared activities and programs to enhance sun protection education. They are student-centred, interactive and fun. There are different resources depending on the grade.
Kidskin Generation SunSmart
Explore resources for early, middle and upper Primary


---
Jiggle Jaggle Hop
Join Margot and Rory's adventure as they learn from and teach big brother Ben about the best way to have some great outdoor play. This positive, engaging, fun story, raises awareness about the best clothing choices to protect from UV and gives agency to children reinforcing the safe choices children can make as they enjoy the wonderful outdoors.
This book was developed with the generous support of The Lionel & Yvonne Spencer Trust.
Use these Jiggle Jaggle Hop resources to support your service community create safe SunSmart habits.
 Jiggle Jaggle Hop online digital version - please share this link with families so they can enjoy the story together at home and be reminded about the importance of covering clothing. 
Family note - this family note helps explain which clothing provides best skin cover when outdoors. 
Associated activities linked to Jiggle Jaggle Hop to help reinforce the story's key messages and learning concepts about clothing and UV  
Jiggle Jaggle Hop PDF posters - help share the important UV protection message 
---
Early childhood resources
A simply spectacular hat
Getting ready to play outside has never been so much fun. Join Miss Fantabulous Fay as she reminds her marvellous monkeys to be SunSmart. With special thanks to Cancer Council NSW who first commissioned and published this book.
Learning experiences for early childhood
https://www.sunsmart.com.au
Your state or territory Cancer Council will also have various resources available. To contact your state or territory Cancer Council call Cancer Council 13 11 20
Find out more about sun safety