A guide to: Cervical cancer screening
Cancer screening saves lives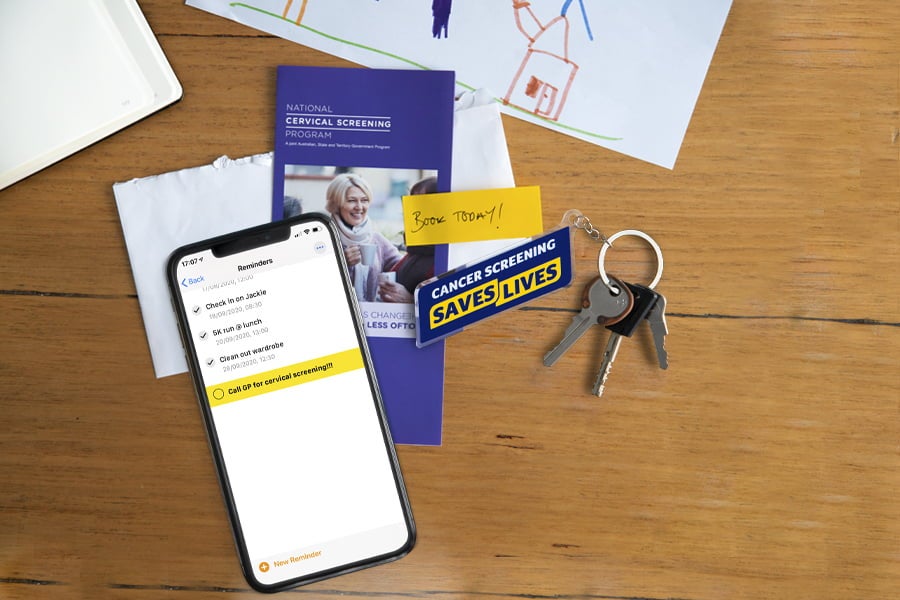 National Cervical Screening Program
Cervical cancer screening saves lives. Screening is one of the most effective ways to prevent cervical cancer, or detect it earlier.
If you put off or missed your cervical cancer screening test during the pandemic, it's important to catch up. We understand you might be busy, but cancer screening could save your life.
If you are 25 or older, you need to keep up-to-date with your cervical screening.
If you've been sent an invitation, it's time to tick cervical screening off your list. It could save your life. 
We understand that you may have questions about the pandemic and COVID-19. For the latest information, visit our page on cancer and COVID-19. If you have any concerns, talk to your doctor or health care provider.
---
Cervical Screening Program
Cervical cancer is largely preventable. Early detection and appropriate treatment can significantly improve cervical cancer survival.
Cervical cancer incidence and mortality rates have halved in Australia since the introduction in 1991 of the National Cervical Screening Program, which the Australian Government has renewed and updated. 
Changes to the screening program have made it more effective for all women. In fact, the renewed program is expected to reduce cervical cancer rates and deaths by at least another 20%.
The changes also recognised the introduction in 2007 of a vaccine against specific strains of the human papillomavirus (HPV), which causes almost all cases of cervical cancer. The new screening program is also designed to work together with the HPV vaccination program, to help reduce the incidence of cervical cancer. 
The changes are an improvement for all women, and are even more important for unvaccinated women. Whether you have been vaccinated or not, it's important to have regular cervical screening tests from the ages of 25 to 74.  
The cervical screening test has replaced the Pap test.  
The new cervical screening test now looks for HPV (which causes almost all cervical cancers), not just abnormal cells (like the Pap test did). 
The new cervical screening test was introduced on 1 December 2017, so if you haven't had a test since then, you're now overdue.  
If you have previously had a Pap test, you should have your first HPV cervical screening test two years after your last Pap test. 
A better test means you will only need to screen every five years after your first HPV cervical screening test.
---
Who is cervical screening for?
Today, women from the age of 25 will be invited to screen under the new Cervical Screening Program. You are eligible for cervical screening if you are 25 to 74 years old, have a cervix and have ever been sexually active. If you have not had a Cervical Screening Test since the program changed on 1 December 2017, you are overdue. 
Previously, the program offered a free Pap test every two years to women between the ages of 18 and 70. 
Cancer Council Australia strongly advises eligible women to participate in the program. 
There are two screening options available, so we recommend you speak to your doctor about which is right for you. 
---
How to participate
Participating in cervical screening is easy to do. If you are due for screening you should have received an invitation or reminder. Call your GP to book an appointment and they'll guide you through what you must do. 
All Australian women and people with a cervix can choose to collect a sample themselves under the supervision of a healthcare professional who also offers cervical screening. Self-collection is when a woman or person with a cervix takes their own sample for cervical screening. It is taken with a cotton swab. You will be given instructions on how to collect the sample and offered a private place to collect the sample. The test is just as effective at detecting HPV and preventing cervical cancer. 
Self-collection is not suitable if you are experiencing symptoms such as unusual bleeding, discharge or pain.
 
---
Download information about cervical screening in your language
Chinese Simplified | 中文
Download information about Cervical Screening in Chinese Simplified | 中文
Chinese Traditional | 中文
Download information about Cervical Screening in Chinese Traditional | 中文
Arabic | العربية
Download information about Cervical Screening in Arabic | العربية
Vietnamese | Tiếng Việt
Download information about Cervical Screening in Vietnamese | Tiếng Việt
---
Australia and Cancer Council leading the way
The Chair of Cancer Council Australia's Screening and Immunisation Committee, A/Professor Karen Canfell, led the independent evidence review. The review (submitted to the independent Medical Services Advisory Committee) concluded that the new cervical screening test every five years is more effective, just as safe and was estimated to result in over 20% reduction in incidence and mortality from cervical cancer in Australian women compared with the previous program. 
For more information on how Australia is leading the world when it comes to eliminating cervical cancer as a public health issue with our world-leading screening and immunisation program, watch the video below. 
---
For more information
Other useful websites
Victorian cervical screening provider directory
Cervical cancer screening guidelines
Routine cervical screening is your best protection against cervical cancer
Cancer Council's leading experts have come together to explain what this means for you